UNFPA supports young people's participation in peace building discussions to enhance their voice and participation in providing solutions to social challenges including peace and security at all levels.
They come from all parts of Maldives to attend the 2018 National Youth Advocacy Summit held in Male'. The event is hosted by JCI Maldives in partnership with the United Nations and brings together leaders of youth-led NGOs. During the three-day event they engage in activities related to their aspirations, rights and opportunities. A safe space to freely express themselves and to create a sustainable platform ensuring young Maldivians' participation.
"I am a peacebuilder"
Hoodh was only 19 when he first participated in a youth forum supported by UNFPA. Now aged 25, he works towards a more inclusive and tolerant society as a Youth, Peace and Security ambassador. "In 2017 I founded the Youth, Peace and Security National Consultation. One of the key findings we identified was that youth feel very anxious about employment, not only to make a living but also to give a positive contribution to the country", says Hoodh.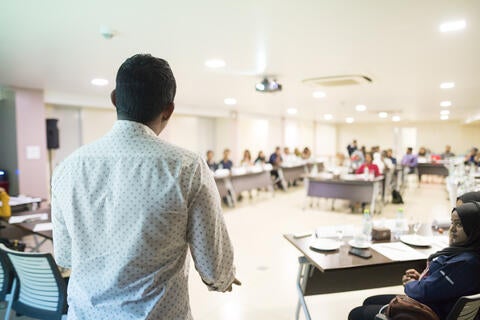 In 2017 UNFPA partnered with young people to organize the Youth, Peace and Security National Consultation, the platform recognizes the positive role young people play in preventing and resolving conflict, countering violent extremism and building peace.
"Outside of school and unable to join the labour force to earn a meaningful wage, gang violence and drug abuse are becoming the alternatives", Hoodh.
According to the Thematic Youth Analysis in the Maldives, a result of UNFPA and the National Bureau of Statistics (NBS) long-standing partnership, unemployment affecting young people aged 18-19 is much higher than for other groups, with 18% of women and 22% of men unemployed.
Calling for change
Recognizing the potential of young people as agents of change within their communities, UNFPA has encouraged youth participation to meaningfully resolve disputes and advocate towards peace.
Axam, aged 24, is on a mission towards gender equality in Maldives: "I want to tackle this issue rather than leaving it to awareness, pamphlets, flyers and TV adds. I don't mean 'tackling' literally, I mean figuratively, I want to handle it from its source: men. I want to talk to the boys who are still growing up but one day will be making decisions."
"I am a gender equality activist because I have had two very strong figures in my upbringing: my mother and my grandmother", Axam.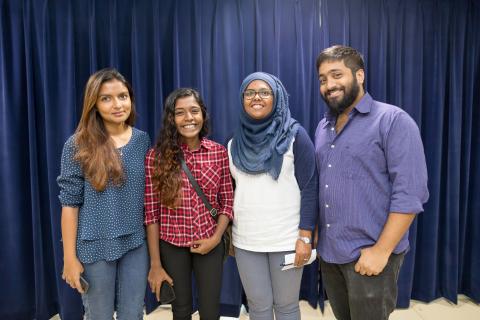 In Maldives, youth is defined as young men and women aged 18 to 34, whereas international definitions concentrate to ages 15 to 24. Nevertheless, Maldivian youth represents 40% of the population, 45% if we include foreigners.
"From a youth transition perspective, it is the role of governments, communities, families and international agencies to help build the resilience of young people so that they can overcome the obstacles they face and have a socially productive, balanced life", in Thematic Analysis on Youth in the Maldives.
"Youth are the driving force of any country and empowering young people to reach their full potential must be the cornerstone of any development strategy", UNFPA Country Director Ritsu Nacken.
Faaiq is a good example of how empowered youth, when given the right opportunities, are effective drivers of change in their communities. With only 22 years of age, he is at the forefront of youth engaging and volunteering activities in his role as the co-founder of a news website where he creates community-based content to tackle important issues.
"As we become aware of our human rights everything changes. I was able to find my role in my community, now I am an active citizen organizing all sorts of events that benefit the well-being of everyone in my island", defends Faaiq.
"You have to lead by example"
"I am raising my voice so other people know what their rights are, to bring them environmental awareness and to mobilize the community to participate in cleaning activities", says Faaiq.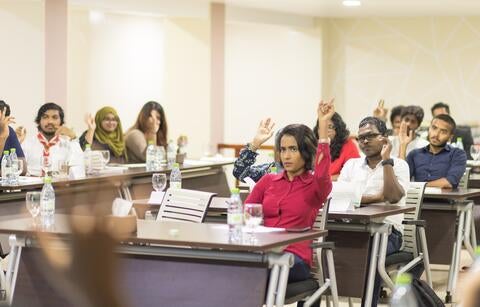 UNFPA facilitates platforms for young people advocating to their participation in decisions affecting them and creating opportunities to strengthen their ability to advance human rights development issues.
These young people have been trained over the years by UNFPA. Investments on health and skills will need to be put in place to foster peace among young people of tomorrow.
©Tatiana Almeida/UNFPA Maldives