Our parents never acknowledged that Sexual Reproductive Health (SRH) existed or that their children might be sexually active. My school wasn't any better. The teachers were so consumed up in finishing the syllabus they had to cover that they rushed through the textbooks and presentations. Sure, I learnt a great deal about mitochondria, as the power house of a cell, or that assets-liabilities = capital. But I had no SRH education whatsoever.
It felt like everyone was shying away from it because it was portrayed as something wrong and inappropriate. Risky behavior from the youth such as unprotected sex with multiple partners consequently leads to various health, social, economic and legal issues along with also being the primary factor behind unintended pregnancies.
Due to the Maldives being a highly cultural and religious country, sexual and reproductive health is deemed to be a taboo subject that had to be tread lightly. However in order to overcome stigma and to address these issues, UNFPA in collaboration with Society for Health Education (SHE), launched the mobile app Siththaa – the first of its kind. Being a teenager myself, this caught my eye. More curious than ever, my friends and I decided to download this app to see what it was all about.
Siththaa is a user friendly mobile application that aims to initiate educate knowledge seeking and spread awareness. It was launched in the hope of establishing a youth friendly platform to gain access to pertinent information on ASRH, lessen the taboo surrounding the subject and create an environment where a larger base of youth can advocate for SRH rights. Skimming through, we read up on topics such as Sex & Sexuality, Contraception, Pregnancy, Consent & Coercion, etc. Digging into these topics, we stumbled upon interesting quizzes that tested our knowledge about each topic. Moreover, we discovered that the app facilitates a chat feature that allows users to ask questions about anything regarding the topics or general well-being anonymously, with the promise that all conversations will remain confidential.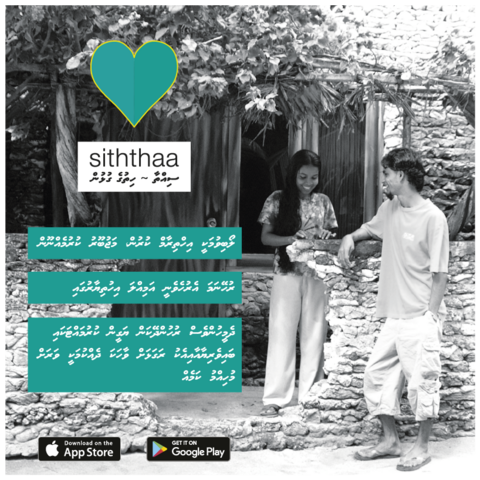 Going through the app, I found the app to be extremely thought provoking. My friends and I shared a common notion, that the information we received through the app was very useful and that it made us want to be more careful. No one really addresses such issues in our community, which is sad as I doubt any of us really know enough about safe sex and sexual reproductive health until we are much older. But now with Siththaa, a medium has been established for youths; contributing their thoughts and ideas to create a safe and open environment for the youth of Maldives to speak their mind and educate themselves regarding SRH.
SRH awareness is crucial to achieving a healthy society, and I believe Siththaa is one of the first steps in achieving this milestone by targeting the youth, married and older couples that need to be well informed; family planning is key to reducing the number of unwanted and closely spaced births. The participation and support of the youth in working towards these goals now could ideally result in a decreased rate of sexually transmitted infections and providing reproductive health needs and services for underserved groups, such as adolescents and people living with HIV/AIDS.
So, browse the information catalogue. Take quizzes to test your knowledge. Use the chat feature to reach out. But most importantly, stay educated.
Now I know!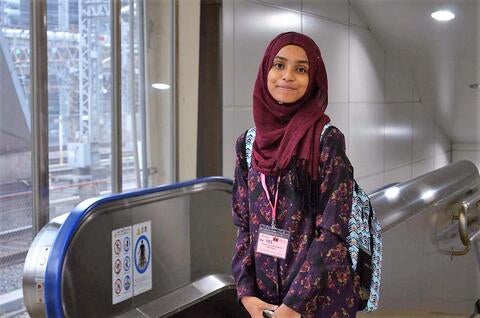 Fathimath Imthisal Saudulla, 18 years.
Working as an UNFPA intern, starting on September 11th 2017, after finishing A levels.