Better known as a picture-perfect holiday destination, most islands in the Maldives are just a meter above sea level. With the sea level projected to rise by around 3 feet in five decades the threat of submerging is very real for Maldives. For the island nation to exist for future generations, every action must be geared towards sustainability and preservation, especially because tourism and fisheries are prime contributors to Maldivian economy.
UNFPA, as the sexual and reproductive health and rights agency of the UN, ensures progress without compromising the environment and strives to introduce sustainable solutions to meet the demands of women and girls. Research shows that young people do not get information on reproductive health from any institution. They instead turn to the internet where there is an abundance of material, although they cannot count on its reliability.  That's why UNFPA Maldives piloted Cupvert project through Safe Space Sessions organized jointly with Society for Health Education (SHE).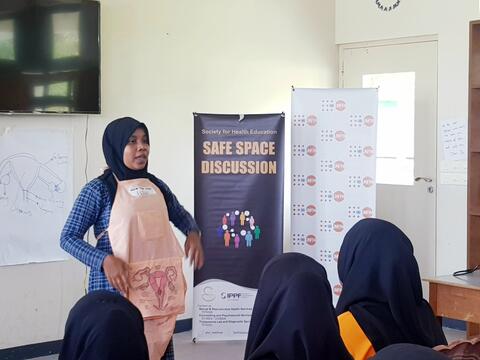 More than 150 young girls and some of their parents from Laamu Atoll attended the Safe Space sessions on human anatomy as well as menstrual health.  "I was surprised to see young girls and even some of their parents were asking questions on their own anatomy," said Aisha, a facilitator from SHE.
At the sessions, many of the young girls saw menstrual cups for the first time. "I did not know such a method to manage menstruation ever existed," said Niha, 14.
As a cup user herself, Hamsha, from Zero Waste Maldives, provided basic information on how to use the cups to manage periods. According to her, one sanitary napkin takes 400 years to biodegrade. This means the first pad used in the Maldives would not have biodegraded yet. 
Putting things into perspective, with the increase in the number of young people entering into reproductive years, it is estimated that the consumption of one-time use sanitary products is also going to increase. The current female youth population will consume around 11 million pads a year! This is why UNFPA partnered with the Six Senses in Laamu to introduce reusable menstrual cups to manage periods and save the environment at the same time.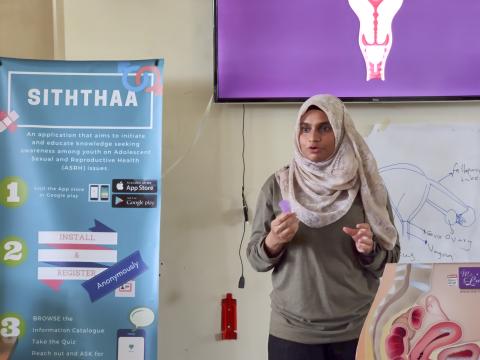 The first of its kind, project Cupvert brought relevant partners together, reaching beyond their respective niches and combining their comparative advantages. UNFPA played a convening role to bring environment activists, reproductive health educators, and the tourism sector to take action on women's reproductive health rights while taking care of the environment that brings prosperity to the nation. The Maldives Girl Guides Association supported the endeavor by raising awareness of the sessions among students and parents.
In order to make an impact and save hundreds of resort beaches and dive sites around the archipelago, a concerted effort is needed to educate young people and facilitate them to make the right choices that simultaneously respect the environment. We look forward to establishing more private-sector partners to address one of the biggest national problems of our time: managing solid waste in the Maldives.