Youth are our future and Maldives' next generation has a big role to play in implementing the 2030 Agenda for Sustainable Development which world leaders agreed to last year.
Official figures from the country's 2014 Housing and Population census highlighted that resident Maldivians aged less than 15 years, represent 27 percent of the total population, whilst older persons, aged 65 percent and above accounted for only 5 percent of the population. These figures show that the country is undergoing a phenomenon known as a "demographic dividend" or "population bonus."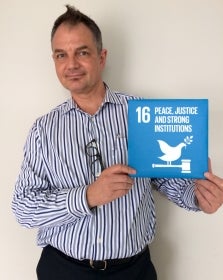 For the Maldives to reap the benefits in the coming years, there needs to be targeted investments and work opportunities for its young people, when they enter the working age. In order for this population bonus to reach its full potential, policies for young people before they enter the workforce, need to be in place. This will ensure that they have better access to knowledge and skills through a strengthened education system as well as ensure equal opportunities for boys and girls.
In order not to lose out on the country's first demographic dividend, the United Nations Population Fund is urging the Government of the Maldives to continue boosting investment in its young people, citing the 2014 Housing and Population census data and government and academic development material available.
Integrating population dynamics are an integral part of the Maldives's future development framework which will allow the country to propose long term goals as it continues its journey implementing the 17 sustainable development goals (SDGs) also referred to as the "Global Goals" which were adopted by Heads of States and Governments at the Sustainable Development Summit in September, 2015.
The UNFPA is working closely with the Government of the Maldives, partners and other UN agencies to directly tackle many of these goals, in particularly referring to youth and reproductive health. These goals are Goal 3: ensuring good health and well-being, Goal 4: quality education for all Goal 5: Achieve gender equality and empower all women and girls.
Setting long terms goals and investing in a highly skilled workforce as well as creating equal job opportunities for the country's young people should be at the forefront of the Maldives continuing social economic and development planning policies. This will help ensure that the Maldives is able to implement the SDG goals successfully and it will set a great example for others to follow.
A lot has already been achieved. Over the past several years, the country has made substantial progress in various areas such as maternal mortality, fertility, family planning services and skilled attendants at births to name a few, and is firmly lives up to the World Bank's classification as an upper middle-income country.
Today's young population in the Maldives will become adults during the 15-year time span covered by the Sustainable Development Goals, so they have a vested interest in improving their lives. Ensuring their active participation will help ensure these goals are met. Investing in the next generation will be key to the Maldives future prosperity to further this progress.
Young people are active drivers of change in local communities across the Maldives. And they have a positive role to play at the grassroots level to help implement and communicate the SDG goals.
In January 2016, the Maldivian President Abdullah Yameen described in his address to the nation the Maldivian youth as being the driving force of the country and that the Government would seek to implement steps towards youth empowerment. He also stated that without input from the youth "we will not be able to attain economic or social harmony".  The President also stressed that efforts were being put in place to ensure the rights of women.
The term "demographic dividend" refers to a period of 20-30 years within a country when fertility rates fall due to significant reduction in child and infant mortality rates. As families become smaller this cuts spending on non-productive dependents and boost economic growth. The decline in family sizes are often followed by an increase in the average life expectancy that increases the proportion of the population that is in the working age-group (15-64). The concept was invented in 1994 at the International Conference on Population and Development (ICPD) held in Cairo, Egypt.
By Alain Sibenaler,
UNFPA Country Director, Maldives
Author: Alain Sibenaler is a national of Luxembourg and currently serves as the UNFPA Representative in Sri Lanka and as UNFPA's Country Director for Maldives. Alain has a proven track record of 20 years in change leadership and management excellence throughout postings in Kenya, Afghanistan, Cameroon and at the UNFPA Headquarters. He has an MPhil in Management Coaching from the University of Stellenbosch Business School in South Africa. He is a practicing leadership-/ and management coach and an organisational mentor with his own designed coaching model, combining integral-/ and systems theory, multiple intelligences and personal construct psychology. Alain tries to regularly update his own photography website and to be the best coach, friend and father to his 5 year-old daughter Lia.