This week, the third Laamu Climate Change Forum (LCCF3) took place from 16-18 October in Laamu Gan drawing in over 200 participants. The forum centered on the theme 'Learning from Laamu' featured local and participants from government, ministries, atoll councils and UN agencies. The participants came together to share and learn innovations and experiences from the Low Emission Climate Resilient Development Programme (LECReD) Programme.
The LECReD Programme aims to enhance capacities at national and local level to support low carbon life styles, climate change adaptation and disaster risk reduction. The programme was initiated in Laamu, the second largest atoll in Maldives. It will result in four main outputs:
1. Platform for partnership, coordination and participation
2. Data and knowledge systems to support evidence-based planning and policy
3. Improved Local Level Planning and Management for LECReD
4. Implementation of Practical Actions.
Planning for a resilient future requires finding solutions to strengthen the data management capacities of Laamu Atoll and identifying needs in the policy and governance environment at both a local, and national level.
With a strong focus on output two, UNFPA together with the National Bureau of Statistics was proud to launch a data entry platform at the LCCF3. The 'Laamukoshaaru' platform, which translates to 'Storage' in Divehi, is a much needed data and knowledge system that will support evidence-based planning and policy.
Having a platform with updated information on the local population and resources is crucial for identifying vulnerable groups, anticipating resource demands and shortages, and effectively targeting assistance and engaging communities in recovery efforts.
"Open and accessible data is central for planning purposes. By harmonizing and focusing on population data collected from the Islands, we can strengthen the focus on the needs of women and young people in the national development process" says UNFPA Assistant Representative Ms. Shadiya Ibrahim.
Lead Statistician and consultant from the National Bureau of Statistics also conducted a briefing on Laamukoshaaru at LCCF3. The session showed participants how to navigate the data entry platform and utilize it to their needs.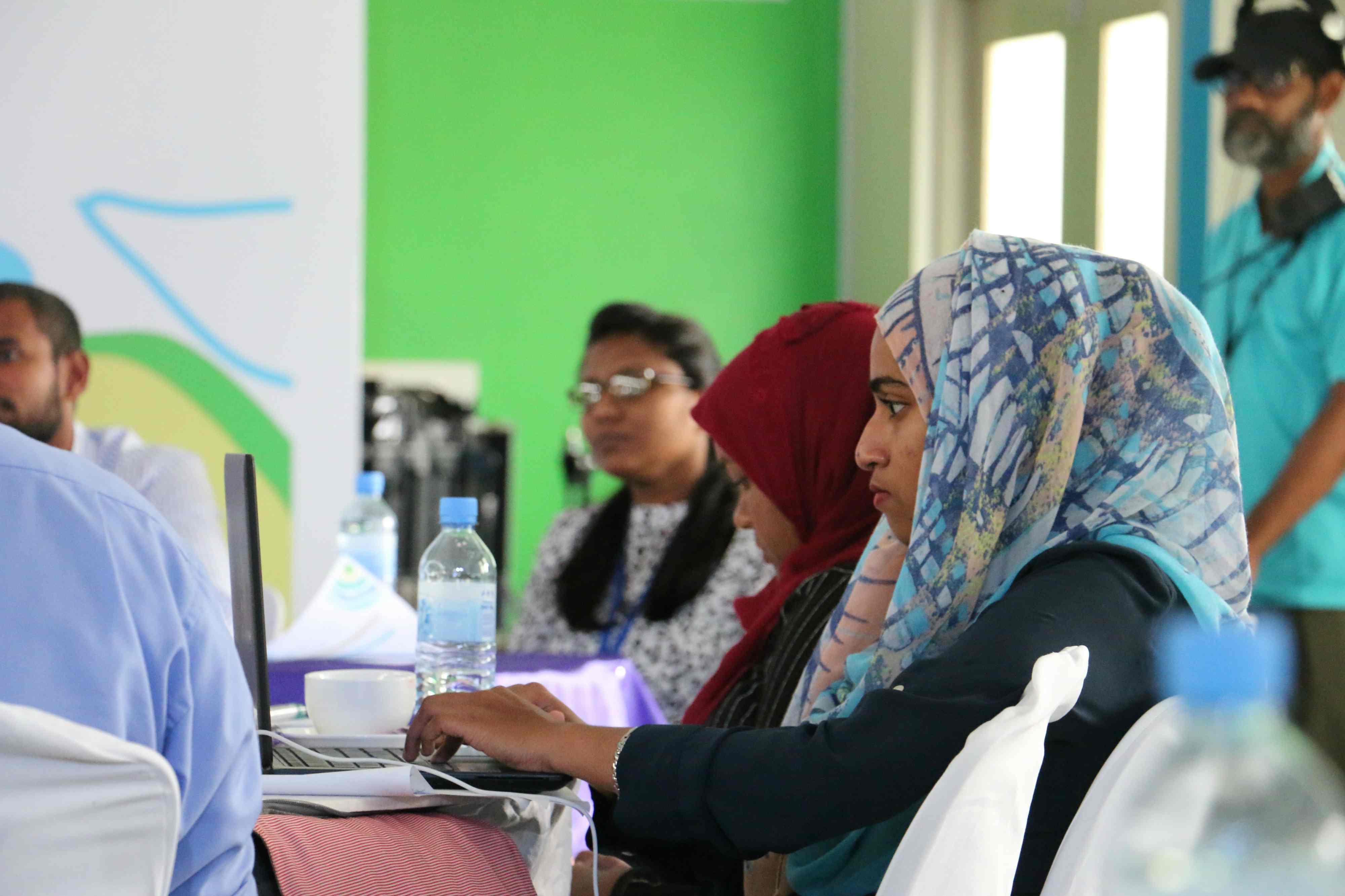 The data management system will help overcome the challenge of data availability for climate resilience planning and will ensure better quality of data for national level monitoring and statistical reporting.